BLONDIE – The First Rap Video Ever Aired On MTV 1981. Mystery Lesson For Hip Hop "Purist"
|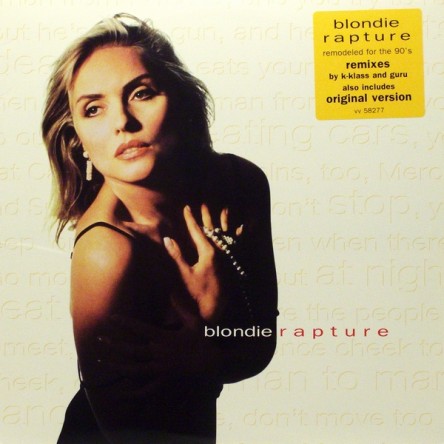 "Fab Five Freddie told me everybody's fly
DJ's spinning I said my, my
Flash is fast, Flash is cool
Francois sais pas, Flashe no deux
And you don't stop, sure shot
Go out to the parking lot
And you get in your car and you drive real far
And you drive all night and then you see a light
And it comes right down and lands on the ground
And out comes a man from Mars
And you try to run but he's got a gun
And he shoots you dead and he eats your head
And then you're in the man from Mars
You go out at night, eatin' cars
You eat Cadillacs, Lincolns too
Mercuries and Subarus
And you don't stop, you keep on eatin' cars
Then, when there's no more cars
You go out at night and eat up bars where the people meet
Face to face, dance cheek to cheek
One to one, man to man
Dance toe to toe
Don't move too slow, 'cause the man from Mars
Is through with cars, he's eatin' bars
Yeah, wall to wall, door to door, hall to hall
He's gonna eat 'em all
Rapture, be pure
Take a tour, through the sewer
Don't strain your brain, paint a train
You'll be singin' in the rain
I said don't stop, do punk rock

Well now you see what you wanna be
Just have your party on TV
'Cause the man from Mars won't eat up bars when the TV's on
And now he's gone back up to space
Where he won't have a hassle with the human race
And you hip-hop, and you don't stop
Just blast off, sure shot
'Cause the man from Mars stopped eatin' cars and eatin' bars
And now he only eats guitars, get up!"

BLONDIE – Rapture
Recorded in 1980.
"Debuting in 1981, the music video was the first rap video ever broadcast on MTV. It took place in the East Village section of Manhattan."
Fab 5 Freddy was referenced in Blondie's 1981 hit song "Rapture". As recounted in the 1999 TV documentary The Hip Hop Years, the "Rapture" video featured Freddy in a cameo role painting graffiti art in the background. (Grandmaster Flash, who was also name-checked in the song, did not show up on the day of the shoot, so artist Jean-Michel Basquiat took his place behind the turntables)"
Moral of the story
Perhaps we should take into consideration what some of the Hip Hop purist and urban culture experts are stating more and more these days, which is that we should move away from the whole Pimp & Ho, bling bling, flashy materialistic, party rap element in Hip Hop, and move the culture back towards it's "original roots" of more socially conscious messages, yet then again, there are always different perspectives to consider along with both factual and non factual data to back up one's claims and stances.
Some people even say that when a in the know DJ in Bronx, NY decided to experiment with spinning two disco break records on two different turntables to keep the music flowing, the women in the crowd got to shaking their tail feathers and continued on so long as the music did, to which his response was that he
"loved it when a plan came together' which we agree with as it is "officially" how the culture of what we now know as Hip Hop was born and bred into existence!