SNOW BUNNY LIKES A SUNTAN!!! – Trans-Racial Identity Made Simple Starring Rachel Dolezal
|
Rachel Dolezal
So, Who is the Siren?

Wednesday, January 05, 2011
Posted by Steve M., senior writer

Great question. It's one we kept asking ourselves during the evolution of our logo (and yes, that's right, a writer was involved in a logo project). We all needed to really, deeply understand for ourselves who she is.

So, a little history.

Let's go all the way back to 1971, to when Starbucks was first coming to be. In a search for a way to capture the seafaring history of coffee and Seattle's strong seaport roots, there was a lot of poring over old marine books going on. Suddenly, there she was: a 16th century Norse woodcut of a twin-tailed mermaid, or Siren. There was something about her – a seductive mystery mixed with a nautical theme that was exactly what the founders were looking for. A logo was designed around her, and our long relationship with the Siren began.

Over the last 40 years we've made some changes to that identity. Now we're doing that again, to keep ourselves relevant as we evolve without ever losing sight of our heritage. But the Siren has always been there. She is at the heart of Starbucks.

As a writer, though, I can tell you that there is a lot more to her than just the design and how she looks. This is what she means to me, and to us.

She is a storyteller, carrying the lore of Starbucks ahead, and remembering our past. In a lot of ways, she's a muse –always there, inspiring us and pushing us ahead.

And she's a promise too, inviting all of us to find what we're looking for, even if it's something we haven't even imagined yet.

She means something different to every one who sees her, who knows her. For me she's kind of the final say on the spirit of everything I write and everything we do. Even as I'm writing this, I wonder what she thinks. (She likes it, by the way.)

Here we are today. Our new evolution liberates the Siren from the outer ring, making her the true, welcoming face of Starbucks. For people all over the globe, she is a signal of the world's finest coffee – and much more. She stands unbound, sharing our stories, inviting all of us in to explore, to find something new and to connect with each other. And as always, she is urging all of us forward to the next thing. After all, who can resist her?

Not me.
Moral Of The Story (PH Trans-Racial Identity Solution)
Now how do we say this in English?
Ok, when it comes to the current trending topic of #RachelDolezal and Trans-Racial identity, my own personal experience has been that the closest that she or any woman can get to having this type of effort work for her and be accepted by others including but not limited to black people for both better or worse, is through being the parent of a black child, based on the old fashioned "one drop of black blood" notion, and if we were to ask a non black mother of a black child, or a biracial or multi-ethnic child of a black father and non black mother, we will whether out loud or in silent agreement receive an answer that says " what whoever that person said about the subject of black and white at PimpHop.com is the truth like a mutha-fkcua!
Now in regards to why the Starbucks logo and description was added to this overall story, it is a result of yours truly repeatedly telling some of the bi-racial women that I know that what is on the Starbucks logo is a representation of her own identity and the future of modern civilization, especially if she is from the Pacific Northwest (true story), which interestingly enough is reflected in the fact that all of the images featured above in this post as well as the Rachel Dolezal story are coming by way of the State Of Washington, and according to an interesting fashion statement made Karl Lagerfeld and Chanel in the image below,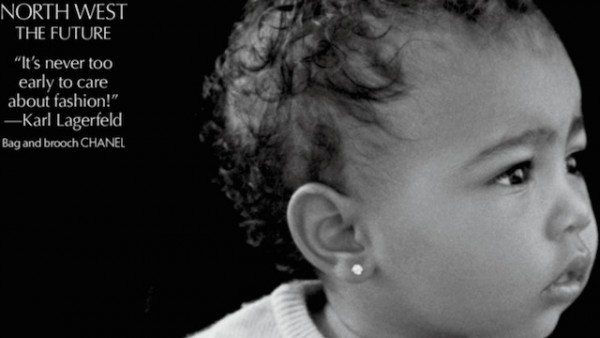 "North West" = The Future!
A "hidden in plain sight" perspective to consider.