6 hours ago - By Rylan Branch
Et là @cderohan tu vois bien la date ? pic.twitter.com/4lYNxgMdrc

— Carole BLANCOT (@caroleblancot) September 28, 2013
"Niggas In Paris"

"Niggas in Paris" (edited for radio as "In Paris" or simply "Paris", edited for album as "Ni**as in Paris") is a song by American rappers Kanye West and Jay-Z from their collaboration album Watch the Throne. The song contains elements from "Baptizing Scene" by Reverend W.A. Donaldson and also samples dialogue from Paramount Pictures' 2007 film Blades of Glory. It debuted at number 75 on the US Billboard Hot 100 on the week of the album's release. The song was sent to Rhythmic and Urban radio on September 13, 2011. The song has since peaked at number 5 on the US Billboard Hot 100, becoming Kanye West's 14th top-10 single and Jay-Z's 18th making Jay-Z the rapper with the most top-10 hits.  As of November 2012, it has sold 3 million digital units in the United States. The song won for Best Rap Performance and Best Rap Song at the 55th Grammy Awards.

Source (Read More): http://en.wikipedia.org/wiki/Niggas_in_Paris
Niggas In Paris / Jay-Z & Kanye West from Lionel Hirlé & Grégory Ohrel on Vimeo.
Moral of the story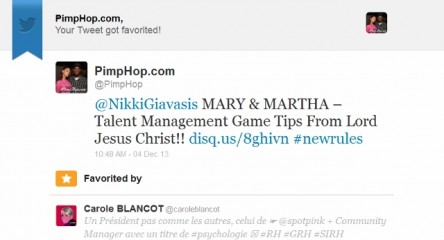 Well, you see, what had happened was……
A notification came to the Gmail inbox indicating that the Mary & Martha post had been favorited on Twitter, and upon further review, the message reached a destination in Paris France, and if you have seen the movie The Da Vinci Code, you can conclude like we have that our people in Paris may very well know more about the story and it's authenticity than we do and can teach us a thing or three about the inner meanings regarding the characters in the script known as Martha & Mary.
With that said, we will go ahead and continue on with the show, and add our international friends to the script in order to give the cause an even greater and more powerful meaning along with a shout out to Twitter Inc. as a social media service that develops code that helps individuals to Branch Out and build bridges as opposed to walls.