MC Shan Yo MTV Raps Custom Pumas
|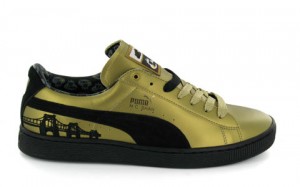 RESPECT THE GAME,
and give credit where it's due.
Im not sure if these are new, as I'm not much of a Sneaker Head (anymore),
yet the symbolic value of the product deserves honorable mention none the less.
For those of you not familiar with MC SHAN from the 80's, lets just say that the current and now out of control Hip Hop Beef /Battle phenomenon draws much of its origin from this 80's war of words between
KRS-1 and MC SHAN regarding the TRUE and OFFICIAL New York City borough which gave birth to this thing known as Hip Hop.
My personal opinion is that Shan actually was the victor in this battle, as for whatever reason, these lyrics
from his song KILL THE NOISE, actually must've had a greater impact on me, than I could have ever imagined during the 80's.
Because I.. rhyme so fly, girls can't resist
But her man can't understand, so he gets pissed
Like a preacher at ??? when she hurt I'll heal her
I'll leap, you sleep, and believe I steal her
My mama used to say: "Be a ladies man"
I used to always wonder why she named me Shan
Not hard to pronounce, easy to spell
And oh how I love it when the ladies yell
In actuality, the two pioneering MC's have long since made peace, and the controversy never expanded into
physical violence of the threat thereof.
Its a working example to follow, and I give props to the Puma Brand, for recognizing the significance of this
particular rapper to the same extent that many from the Hip Hop culture recognize the significance of a pair of Fat Lace Puma's.