Virgin Galactic and Abu Dhabi Partnership – Space Age Pimpin In Full Effect
|
For those interested in the next frontier, this is what the future is looking like. Virgin Galactic, the space tourism company founded by Richard Branson, founder of The Virgin Group and all of its subsidiaries has sold a large stake in the venture to the Abu Dhabi  investment group is known as Aabar Investments, a U.A.E. state run investment company which is OPEC's third largest supplier.
An Abu Dhabi state-linked investment company is planning to buy a 32 per cent stake in Virgin Galactic, the commercial space venture of entrepreneur Sir Richard Branson, in the latest sign of the oil-rich emirate's rising ambitions.

Aabar Investments will pay $280m (£170m) for the holding in the company, which was launched in 2004 and aims to start flying private passengers to space within two years at a cost of $200,000 per ticket.

The Abu Dhabi group also plans to invest an extra $100m to help pay for research that would give Virgin Galactic the option of launching small satellites from unmanned rockets.
For those who are not familiar with
Abu Dhabi, it is the capital city of the U.A.E. ( United Arab Emirates), which is home to the luxury resort city of Dubai.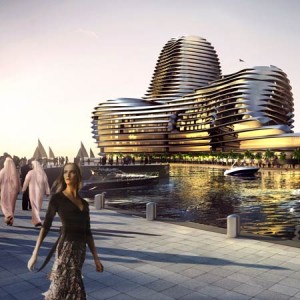 (Abu Dhabi World Trade Center)
Abu Dhabi, is currently listed as
the richest city on Earth and estimates calculate the minimal average net worth of each of its 400,000 citizens is approximately $17 million U.S.D.
Its something to look forward to if you are an adventurous spirit.
For more information regarding the Virgin Galactic Space Tourism venture, simply visit their company webstite and let your imagination soar.
See You At The Top
( And Bring A Friend!!)
Written By
R.Branch
Code Name
Scotty Pimpin