AJUKU GIRLS – Make Friends With The Future
|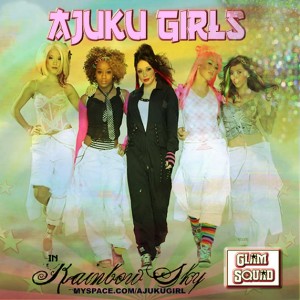 Konnichiwa! Meet the Ajuku Girls, five playful J-Pop princesses poised to reign as the quintessential pop group of the next generation. Intense bubblegum beats, a Japanese flavor that's hotter than wasabi, and lyrics so sweet they'll give you a toothache define the AG's delish new sound.

These Harajuku heroines launch their global J-Pop invasion early 2010 with the release of their single, "Tokyo Drift." Look for this super-girl-group to reign over the pop scene, leaving you down on your knees, blinded by glitter and begging for more glam.
While the online social networking trend has done wonders for the ability to stay connected with friends from the past, I have found it even more useful in staying connected to friends from the future.
The Ajuku Girls, have been actively putting in work at a steady pace over the past few years, and with a variety of changes and growth, the group has now been nominated for the KISS FM Breakout Artist Of The Year Contest, which requests your support by clicking this link and casting your vote.
I will simply leave you with this video clip

of a performance of their hit single Tokyo Drift, and remember where you heard it first, as from Hollywood to Japan, the web really is worldwide equipped with the ability to become acquainted with and even
create the future!
More Ajuku Girls information can be found at the following links.
http://www.myspace.com/ajukugirl
http://www.twitter.com/ajukugirls
http://www.youtube.com/ajukugirls
http://www.facebook.com/pages/Ajuku-Girls/86309516338?ref=ts
A different perspective to consider.