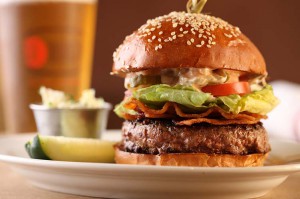 Many have called Go Burger the best burger joint in Los Angeles. Sporting a trendy upscale motif, Go Burger definitely fits the posh Hollywood lifestyle like a glove. The restaurants prime location on the corner of Sunset and Vine shows ESquared Hospitality means business.
Now don't let the name fool you, Go Burger also has a wide assortment of menu items ranging from starters like chili bowls and fish tacos, to drink concoctions known as spiked milkshakes. For those that are not into eating things that have faces, you can get your herbivore on with a salad. Another thing Go Burger has up its sleeve is secret menu á la In n Out.
Casual and airy, featuring a 20-foot high ceilings and floor-to-ceiling windows, GO Burger is a modern burger restaurant located right on the Sunset strip. Although we're famous for our habit-forming burgers, spiked milkshakes and floats, we have an extensive menu with something for everyone, from meat aficionados to vegetarians. On most days (this is Southern California, after all) you can also enjoy the sunny outdoor patio with shaded café.
Check Out: Go Burger Los Angeles