DIVINE POSTERIZATION – Starring Sarah Sabsay Of Feature Designs
|
IMAGE POSTERIZATION

Posterization occurs when an image's apparent bit depth has been decreased so much that it has a visual impact. The term posterization is used because it can influence your photo similar to how the colors may look in a mass-produced poster, where the print process uses a limited number of color inks. This effect ranges from subtle to quite pronounced, although one's tolerance for posterization may vary.

Source: www.cambridgeincolour.com/tutorials/posterization.htm
Welcome to the last Tuesday Newsday of June 2012.
Lets take some time to ponder on the exact way that this story needs to be told.
The truth is that this is a young lady that I don't quite recall how I became acquainted with, yet I do remember specifically what brought her to the center of my attention, which was a photo styled in a manner similar to a poster for the movie Salt starring Angelina Jolie, which was convincing enough for me to investigate further.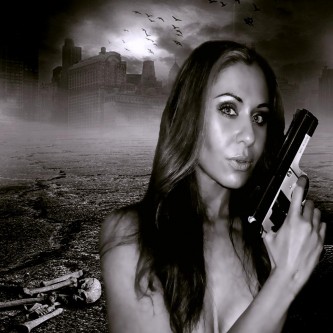 I then learned that she actually does this style of photo editing known as posterization along with other image works as an occupation and passion, and I have been keeping an eye out for her features over that past few years on her Facebook profile.
As of today, an inspiration came about to share a message of wealth and prosperity and her image gallery held the exact image that fit the bill, which led to further discussion about co creation and project collaboration.
Over the years, the world has witnessed a revolution in the world of digital media due to the growing popularity of image editing software and applications which seem to reflect an inner call for collective conscious evolution which all begins with mental images which are then brought to life with the aid of these digital tools.
In closing, there is an intuition held by yours truly, that the collective and unified focus of groups on common causes which are communicated through images, can and do lead to an effect of these images becoming what we know and recognize as actual reality, and we look forward to Sarah's contributions to the overall PH picture as she can share some useful and valuable insight including but not limited to some footage from her adventures to the island nation of Cuba,
and her humanitarian efforts in The Dominican Republic.
A Feature Designs perspective to consider.