THE CHOICE – Election 2012 Indepth Obama/Romney Life Documentary On PBS
|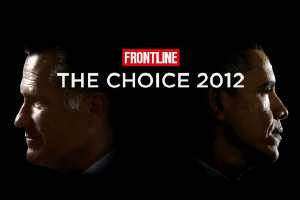 Tonight at 9 PM (check local listings), FRONTLINE's The Choice 2012 premieres on PBS and online. The two-hour film explores the formative experiences, decisive moments and divergent worldviews of Barack Obama and Mitt Romney.

FRONTLINE's top political reporting team spent the last year probing the core character of each candidate. More than 100 in-depth interviews with friends, family, authors and journalists contribute what Bloomberg Businessweek says "could stand as the most concise, level-headed political biography we're likely to get this election season."

Watch The Choice 2012 on PBS. See more from FRONTLINE.
Two different and "2012 Election Relevant" perspectives to consider.