MAKE YOUR NEXT MOVE YOUR BEST MOVE – A "P" True Hollywood Story Starring Julia Roberts And Kylie Jenner
|
Pretty Woman

Pretty Woman is a 1990 American romantic comedy film set in Los Angeles. Written by J. F. Lawton and directed by Garry Marshall, it stars Richard Gere and Julia Roberts, and features Hector Elizondo, Ralph Bellamy (in his final performance), Laura San Giacomo and Jason Alexander in supporting roles. Its story centers on down-on-her-luck Hollywood hooker Vivian Ward, who is hired by Edward Lewis, a wealthy businessman, to be his escort for several business and social functions, and their developing relationship over the course of her week-long stay with him.

Source (Read More): https://en.wikipedia.org/wiki/Pretty_Woman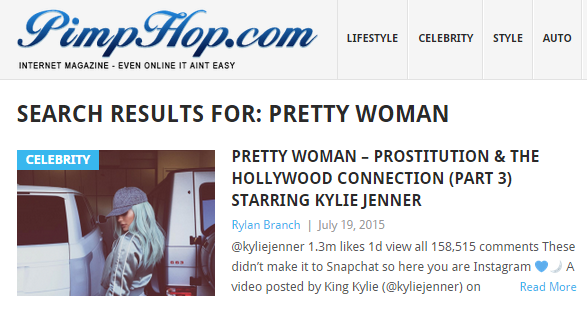 Click on the image above to review the PH Pretty Woman 2015 article
Moral Of The Story (PH Pretty Woman Solution)
☺️ GONE A photo posted by King Kylie (@kyliejenner) on
In my honest opinion…
Saying that one is sick and tired of hearing about The Kardashian and Jenner siblings in their news feeds is like saying that one is sick and tired of hearing about the future which is in essence what they represent for better or worse as a matter of personal perspective, yet considering the matter from a position of power as the author of such said future, it's better to just write it into the script so that the future is bright so that we can remain well and energized of hearing about the Kardashian and Jenner siblings in our news feeds.
People do what works. Identify the payoffs that drive your behavior and that of others. #DrPhil pic.twitter.com/NhXB3Y2Sxv — Dr. Phil (@DrPhil) February 3, 2015
"That's what this effort is all about. It's about creating a world where women shine." —FLOTUS on #LetGirlsLearn: http://t.co/8n1tGpQJME — The First Lady (@FLOTUS) March 23, 2015
Life=Women+Money & #Hollywood Aint Nuthin But Some Words And Pictures. Guess the PIMP thing 2 do is VISUALIZE it tho! pic.twitter.com/wWiqzn2jHN — PimpHop.com (@PimpHop) March 17, 2015
The Saga Continues!
Another "P" True Hollywood Story.