"L.A. FACE WITH THE OAKLAND BOOTY" – A New Hollywood For The New Economy Starring Blake Lively
|
Blake Lively

Overview (3) Date of Birth 25 August 1987, Tarzana, Los Angeles, California, USA Birth Name Blake Ellender Brown Height 5′ 10″ (1.78 m) Mini Bio (1) Blake Lively was born Blake Ellender Brown in Tarzana, California, to a show business family. Her mother, Elaine Lively (née McAlpin), is an acting coach and talent manager, and her father, Ernie Lively (born Ernest Wilson Brown, Jr.), is an actor and teacher. Her brother is actor Eric Lively, and her half-siblings are actors Lori Lively, Robyn Lively and Jason Lively. She followed her parents' and siblings' steps. Her first role was Trixie, the Tooth Fairy in the musical movie Sandman (1998), directed by her father. Her big break came along a few years later, though. Blake was up to finish high school when she got the co-starring role of Bridget in The Sisterhood of the Traveling Pants (2005). Blake was so perfect for the role of Bridget that, with no big references or even auditioning, she landed the role. According to her, all she did was walk in and leave a photo of herself. It was clear that she was the Bridget needed. After the film, Blake went back to high school for her senior year to have the life of a regular teenager — or a very busy regular teenager. She was class president, a cheerleader, and performed with the choir. – IMDb Mini Biography By: irene sotirhou Source: http://www.imdb.com/name/nm0515116/bio?ref_=nm_ov_bio_sm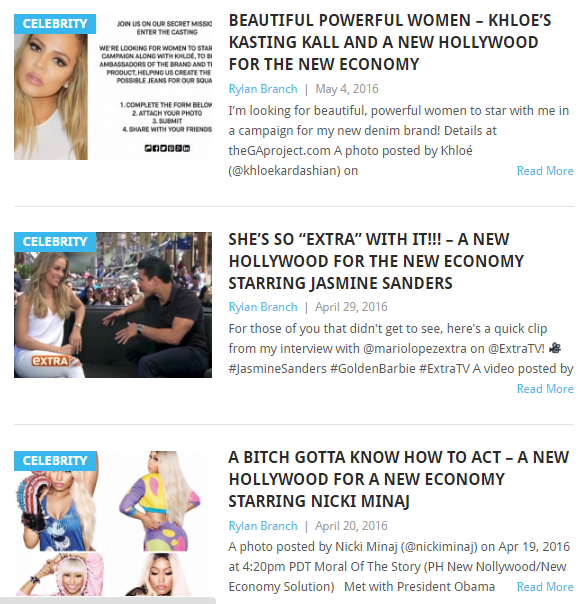 Click on the images above to reach the PH New Hollywood/New Economy menu.
PH New Hollywood/New Economy Solutions
People do what works. Identify the payoffs that drive your behavior and that of others. #DrPhil pic.twitter.com/NhXB3Y2Sxv — Dr. Phil (@DrPhil) February 3, 2015
"That's what this effort is all about. It's about creating a world where women shine." —FLOTUS on #LetGirlsLearn: http://t.co/8n1tGpQJME — The First Lady (@FLOTUS) March 23, 2015
Life=Women+Money & #Hollywood Aint Nuthin But Some Words And Pictures. Guess the PIMP thing 2 do is VISUALIZE it tho! pic.twitter.com/wWiqzn2jHN — PimpHop.com (@PimpHop) March 17, 2015
A hard-nosed argument for investing in women and girls from @JacqEHoward: http://t.co/nhh22OA0PK — Bill Gates (@BillGates) February 2, 2015
We agree with Bill Gates, along with this new update agreement with Oprah Winfrey, and then this brand new fresh out the frying pan follow up that is the ultimate score settler as provided by Beyoncé…

It is best to just let her speak for herself, and provide the solid support that helps to get her point across.

A "Richest People In The World" perspective to consider.
Blake Lively @ The 2016 Cannes Film Festival putting on a show?
"Even white boys got to shout. Baby got back."

– Baby Got Back
Artist: Sir Mix-a-Lot
Album: Mack Daddy
Released: 1992
Lyrics: Oh, my, God "Becky", look at her butt / It is so big, she looks like / One of those rap guys' girlfriends. / But, ya know, who understands those rap guys?…
Awards: Grammy Award for Best Rap Solo Performance
Solution
Just let her speak for herself!
So says the original authors of such said appropriated culture!
Super Focused