ALL SHE REALLY WANTED WAS SOME YEEZY'S – A "P" True Hollywood Story Starring Blac Chyna
|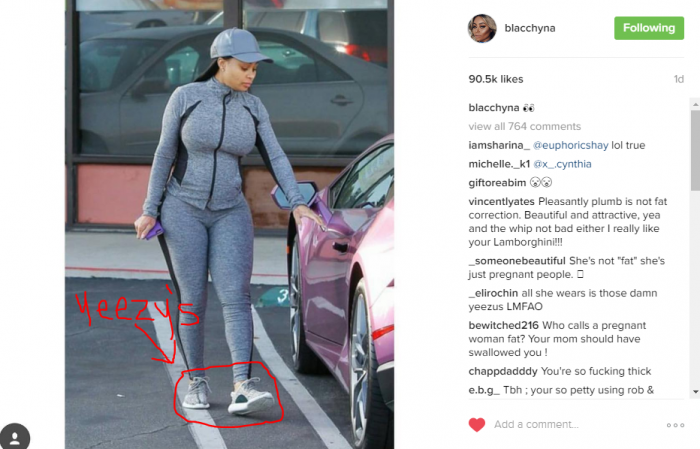 A "P" True Hollywood Story By Rylan Branch
All Blac Chyna really wanted was some Yeezy's as a search of some of her post on The Gram from 2015 will confirm, yet since she couldn't gain access to "the plug", it required that she have to just back up off of it and wait on it, until Rob Kardashian shows back up in the public eye along with Blac Chyna, and he says…
" You know what? The solution is simple.
In exchange for your faith in and respect for The Game, here is a proposal for marriage with a valuable diamond engagement ring to seal the deal, a purple customized Lamborghini, my last name that you can go and trademark because you put some respek on it, a name that actually plays a part in the appeal of the Yeezy's in the first place, along with some juice to make you a baby with that also has such said surname, AND, you can have some Yeezy's too just like in the post on PimpHop.com has you picturing yourself, while Kim And Kanye are over in Europe kissing "muchi badduchis" ass because they still suffer from some traces of self hate, believing that being in Italy and in Vogue magazine, etc,  gives them some type of a higher value, so that when they both get back to L.A., they will have to adhere to the writing on the wall here at Mighty Mighty PimpHop.com as it reads below."
Click on the images above to review the PH Blac Chyna articles.
Conclusion
And in the words of the Mighty Wu-Tang Clan….
"Can it be that it was all so simple then?"

-Can It Be All So Simple
Wu-Tang Clan
ALL SHE REALLY WANTED WAS SOME YEEZY'S
Another "P" True Hollywood Story.