Mercedes Benz Ocean Drive Concept Car
|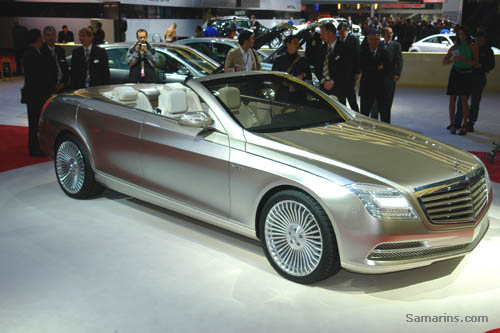 Is This What The Future Looks Like?
At the 2007 Detroit Auto Show, Mercedes Benz unveiled its new concept known as the
Ocean Drive Model.
It appears that the BIG BODY BENZ concept of the late 80s and early 90s has found its way back on the scene in the form of a Drop Top as it is 208 inches in length, (Just Over 17 feet).
The wheel size is actually quite large as well, as the wheel base totals 124.5-inches, which would leave you with the option of sitting on 30 inches per wheel.
It also has come equiped with chrome spoke rims, and the folks over at Car and Driver Magazine basically equate it with a convertible v12 S600 Sedan model, a Benz Enthusiast Dream come true.
As to whether or not this conept will ever hit the market is in question. Some predict that it will eventually lead to a new
Maybach Model, yet, for now, we will just have to look and imagine.