T.I. In Some FEDERAL Shit!!
|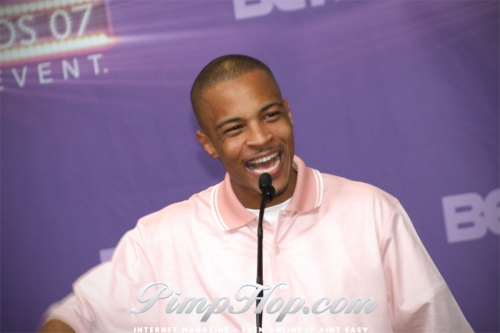 In The News.
Rapper/Actor/Mogul Cliff Harris, AKA T.I. was arrested on Saturday afternoon in Atlanta, after an alleged plot to purchase a substantial amount of machine guns as well as silencers.
Reports state that a bodyguard, acting as a cooperating witness arranged the transaction to purchase weapons from an undercover A.T.F. agent. A subsequent raid of the rappers residence was said to have turned up a stash of illegal weapons, resulting in his being brought up on charges including illegal possession of firearms by a convicted felon.
http://enews.earthlink.net/article/ent?guid=20071014/47119440_8a_13820071014477627883
PimpHop Perspective.
There are often certain news items that I Wish NOT to present, yet in the fairness of integral journalism, the good has to go with the bad.
I guess what they say in the popular manuscript called The Secret is TRUE, which is that
Thoughts Become Things!!!
Interesting timing, as T.I. is set to appear in the upcoming movie entitled
American Gangster staring Denzel Washington and Russell Crow , set to be released on November 2, 2007.
View The Trailer Below.

http://www.americangangster.net
Im sure this news will actually help generate increased ticket sales, to help pay everyone else EXCEPT for T.I.
Without viewing the film, I can predict that the story plot will ultimately end with a Powerful African American Male, being "BROUGHT TO JUSTICE" in the end.
What do YOU think?
Guess its what happens when you let SOMEONE ELSE write your script for you.
Rappers have the greatest ability to write their own scripts , which a majority of the youth are imitating on a GLOBAL SCALE, yet many of them are writing themselves in to LOOSE at the end.
All in the name of Street Credibility, like Kanye West States in his song All Falls Down,
White Man Gets Paid Off Of ALL OF THAT!!!
In closing, we ALL are going to make some mistakes, and it appears that a RICH MANS mistakes tend to be much more costly.
Just like the Jay Z and Too Short song collaboration, entitled
SHIT WAS ALL GOOD JUST A WEEK AGO,
let it be a note for all to watch what you say and wish for, as you just might get it.
All of the details have not surfaced as of yet, and the defense team has not been assembled, so lets have everyone focus on T.I. walking away from this whole ordeal with the look of this above post image as his facial expression.
See You At The Top



Written By
R. Branch
Code Name
Scotty Pimpin