Aw Hell, The Queen.
Just Kidding..
No disrespect to Her Royal Highness, as I believe that in actuality, she holds some rights over the language being used here in America, which is the hottest selling tongue on the planet, known to you as ENGLISH!
On that note, we bring to you the 2009

G 20 Summit, where world leaders come together to discuss the most effective ways to resolve conflicts
and serve the needs of the citizens of the world.
No story is complete without its antagonist, popularly known as

HATERS/PROTESTERS.
In a free and democratic world, citizens voicing their displeasure about things tends to help ease the emotional wounds of a continuing feeling of powerlessness, yet this year, thanks to Obama's Star Power, the tone is a bit easier than years passed, and the main target of hate appears to be towards the banks, and not the heads of government. Go Figure.
We can see what transpires in later days to move into the Spring Cleaning season ,with a continuing global recession, yet from what I can see, progress has already been made as the simple things tend to work most effectively.
If you have children on a school yard,you will see that they have a unique ability to practice the ancient human practice of trading.

"I will give you two of my cookies, in exchange for your honey bun"
as an example,
and they have the interesting ability to set the market value of items being traded, all without any adult supervision.
Sounds like a working example, as the Obama's saw fit to bless Queen Elizabeth with an American Made Techno Gadget, which actually holds its weight in gigabytes around the globe, known to you as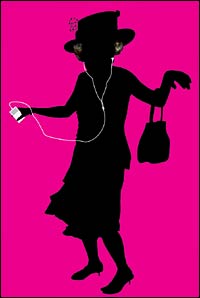 an iPod, the upgraded Pimpish Pink version with the video jump off, pre loaded with an assortment of hot content, for her viewing pleasure. I cant think of ANY woman that I know, who would not find the gift as a wonderful treat, even the woman who has just about everything, except for some SWAGGER, which was properly assessed and rectified by the U.S. President, upon recommendation of the First Lady.
Lets see what happens next.
A different perspective to consider.