Kim Jong-il & N.Korea Pull Another "CHECK NUTZ"
|

Not sure if you keep track of global affairs as you may be preoccupied with your own business, yet for those who peep game on a global scale,
North Korea pulls another check nutz on the international community by reactivating a plutonium plant, then stating that any acts taken against their ships will be considered as a provocative act which will be responded to with an attack on South Korea.



North Korea, facing international censure for this week's nuclear test, threatened on Wednesday to attack the South after it joined a U.S.-led plan to check vessels suspected of carrying equipment for weapons of mass destruction.
http://www.reuters.com/article/topNews/idUSSEO14165620090527?feedType=nl&feedName=ustopnewsearly
At the top of the key is none other than the worlds most
Prolific Pimps, who in actuality, is said to have been born in Russia.
His Russian Name?
Yuri Irsenovich Kim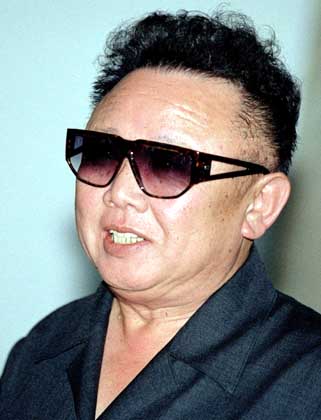 Code Name
Kim Jong-il
Kim is said to be a huge film buff, owning a collection of more than 20,000 video tapes.[81] His reported favorites are the Friday the 13th, Rambo, James Bond, and Godzilla series, as well as Hong Kong action cinema, and any movie with Elizabeth Taylor.[82] He is the author of the book On the Art of the Cinema. In 1978, on Kim's orders, South Korean film director Shin Sang-ok and his actress wife Choi Eun-hee were kidnapped in order to build a North Korean film industry.[83] In 2006 he was involved in the production of the Juche-based movie Diary of a Girl Student – depicting the life of a girl whose parents are scientists – with a KCNA news report stating that Kim "improved its script and guided its production".[84]

Kim reportedly also enjoys basketball. Former United States Secretary of State Madeleine Albright ended her summit with Kim by presenting him with a basketball signed by NBA legend Michael Jordan.[85] Also an apparent golfer, North Korean state media reports that Kim routinely shoots three or four holes-in-one per round.[86] His official biography also claims Kim has composed six operas and enjoys staging elaborate musicals.[87] Kim also refers to himself as an Internet expert.[88]
http://en.wikipedia.org/wiki/Kim_Jong-il
I have heard many different stories, including those from some of my Korean buddies, yet there is just something about this guy that has always intrigued me.
They ( world media) supposedly were granted visitation rights so that the news media could show the world an inside glimpse of of mysterious
North Korea,  as I saw on CNN, yet the most interesting piece of the puzzle is the one which states that he  is the author of a popular book which is available on Amazon.
A book about politics, religion, philosophy , etc?
Almost.


The game is DEEP.
Lets see what the plot of this movie brings next, as I think we are finally getting to the thick of the plot.
A different perspective to consider.