Ron Artest – How To Be One Of The Fortunate Ones
|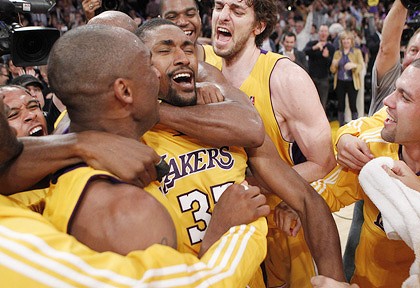 "Cowards die many times before their deaths; The valiant never taste of death but once."
–William Shakespeare, MacBeth
(T.G.I.F.) Thank God It's Freeday.
Funny how the game goes as we have something to grow on over the weekend, and it has been demonstrated again that a million pages worth of words cannot match the validity of life experienced in real time.
If you had the chance to view last nights Lakers vs. Suns game, you had the opportunity to witness and experience an epic drama based on the concept of human decision.
If it touched a nerve in you as it did me, it is because just about everyone watching has been put into a situation in which risks were taken which lead to a failure and redemption became the new cause.
The shit happens to me all the time as I am somewhat of a calculated risk taker, yet the interesting part of the story shows in the faces on the Lakers team, staff, and fans before and after the effects of the game buzzer beater.
The person who actually explained the game of winners the best, in my opinion was Tom Cruise in an interview on The Actors Studio.

He was asked one of those deep philosophical questions that the program is known for, and his response was as follows.
"I'm going to make my own decisions, and they're going to be my mistakes, and EVERYONES victory.
-Tom Cruise – Actors Studio Interview.
Aint that about a bitch?
I added Tom Cruise to the story as he freqents home games in a court side seat at the Staples Center, and the dots tend to connect as such in
The City Of Angels.
The point of the story is simply that big payoffs require big bets, and while there is a chance that you may miss a long shot, there is also a chance that you may hit, yet if you miss, there is an opportunity to redeem yourself for even greater glory, yet a true player knows that it is impossible to score if you are too scared to shoot due to the backlash that usually comes with missing the shot.
Even Online It Aint Easy,
Just Ask Ron Artest About Twitter.

You can still stay up to date with Ron's personal "edited" blog.
http://www.ronartest.com/blog
A different perspective to consider.