Tyra Banks Says – "Never Look Down On Someone Unless You Are Helping Them Get Up!"
|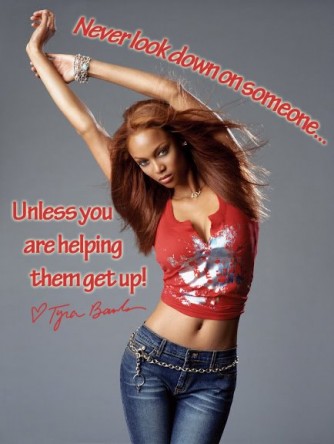 Tyra Banks

International icon, Tyra Banks, has broken down barriers to become a highly influential figure in media today.

In the fashion industry, Banks is known for her extensive list of "firsts." Over the course of her distinguished modeling career, successfully transitioning from high-fashion to commercial, Banks became the first African-American woman to grace the covers of GQ and the coveted Sports Illustrated Swimsuit issue. At the height of her success with global supermodel status, Banks made the decision to leave the modeling world and pursue ventures in media and entertainment.

Banks also founded the TZONE Foundation that empowers and seeks to raise the self-esteem of young women across the US. Through every phase of Banks' career, she has been a role model to young women.

In 2003, Banks established Bankable, the parent company to the Digital, Studios and Books divisions, creating a multi-faceted company where beauty meets entertainment. Banks became a pioneer in reality TV as the creator, executive producer and host of "America's Next Top Model" which is viewed in over 170 markets, with 20 international editions. In 2005, Banks became the first woman seen simultaneously on primetime and daytime with the launch of her own talk show, as host and executive producer of the Emmy-winning, "The Tyra Show." Banks is also the co-executive producer of ABC's primetime reality series "True Beauty."

In 2011, Banks announced an exclusive partnership with Demand Media to launch a highly-interactive, beauty- and fashion-focused online platform. Banks also released her first fiction novel in 2011 titled MODELLAND, a fantasy trilogy published by Delacorte Press of Random House, which hit the New York Times bestseller list.

Through all her endeavors, Banks remains committed to her personal mission to empower women and expand the definition of beauty.
It's April Schools Day around these parts, and if I had my way I would have Tyra and other noteworthy individuals with a proven track record of success who continuously offer insight to others on the road to reaching their full potential offer their valuable insight here at this online publication so that it acts as a one stop source for solid pimpformation.
It looks like Tyra has taken matters into her own hands again by using her own images to display messages of wisdom, both of which (words and images) add value to each other, so lets just keep it simple by following this example and making it so.