ALE TO THE CHIEF – Official White House Beer Recipe Released
|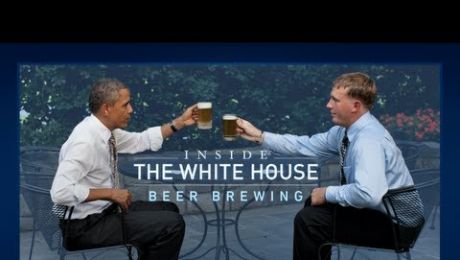 (Editors Note 9/1/2012)
With all of the buzz surrounding the secret formula for the homemade White House brew, it looks like they have responded in like fashion by delivering the goods as explained below.
(End Note)
Ale to the Chief: White House Beer Recipe

With public excitement about White House beer fermenting such a buzz, we decided we better hop right to it.

Inspired by home brewers from across the country, last year President Obama bought a home brewing kit for the kitchen. After the few first drafts we landed on some great recipes that came from a local brew shop. We received some tips from a couple of home brewers who work in the White House who helped us amend it and make it our own. To be honest, we were surprised that the beer turned out so well since none of us had brewed beer before.

As far as we know the White House Honey Brown Ale is the first alcohol brewed or distilled on the White House grounds. George Washington brewed beer and distilled whiskey at Mount Vernon and Thomas Jefferson made wine but there's no evidence that any beer has been brewed in the White House.  (Although we do know there was some drinking during prohibition…)

Continue Reading Here.