Facebook's Mark Zuckerberg Gets "Owned" By A Hacker On His Own Personal FB Profile!?!
|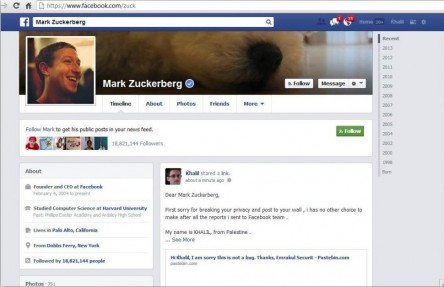 via DigitalTrends.com

A guy spammed Mark Zuckerberg's wall because Facebook ignored his bug report

By Natt Garun — August 19, 2013

You often hear stories about how a hacker breaks into a business's website, then the company ends up hiring said hacker as some sort of consultant to prevent future attacks. For some reason, we doubt Facebook is going to take on Khalil Shreateh, an IT researcher from Palestine, after he hacked into Mark Zuckerberg's wall to prove his security bug report.

Let's be fair, we're sure Shreateh had good intentions. Earlier this month, the researcher discovered a bug that allowed him to post on any user's Facebook wall regardless of privacy settings. He even tested the vulnerability on Sarah Goodin – one of Zuckerberg's Harvard friends. After reporting the bug to Facebook, the company's security engineer identified as Emrakul did little to help, only replying in one sentence responses. "I dont see anything when I click link except an error," wrote one email. "I am sorry this is not a bug."

Frustrated, Shreateh felt he had to choice but to prove his point on the Zuck's wall, hoping that by reporting to the CEO directly, someone will address the security flaw. "First sorry for breaking your privacy and post to your wall , i has no other choice to make after all the reports i sent to Facebook team," Shreateh wrote, before providing descriptions and links to the issue. As if the matter wasn't comical enough, Shreateh's profile photo is a picture of Edward Snowden.

Shortly after the post, another Facebook engineer named Ola Okelola contacted Shreateh for more details. As a result, Shreateh's Facebook was temporarily disabled as a "precaution," and Okelola explained to Shreateh that his report did not contain enough technical information for the team to take action. Facebook also said it cannot pay Shreateh a reward since he exploited the vulnerability, thus violating the site's terms of service.

Read more: http://www.digitaltrends.com/social-media/a-guy-spammed-mark-zuckerbergs-wall-because-facebook-ignored-his-bug-report/#ixzz2cRQuAaN1
Follow us: @digitaltrends on Twitter | digitaltrendsftw on Facebook
Moral of the story
So according to this unfolding story, the only visible African American on the Facebook Staff, who happens to be a Muslim from Nigeria as pictured above is who was sent to address the issue and have a dialog with the hacker to discuss a fix for the glitch?
Hmm.. According to his title as listed on his personal Facebook profile, there does appear to be some Big Pimpin occurring in real time behind the scenes!
A relevant social media perspective to consider.