SEATTLE'S 12TH MAN – A Working Formula For Mutual Social Benefit And Effective Community Building!!
|
Starbucks celebrates the Seattle Seahawks with 12 cent Tall Brewed Coffee

Starbucks stores in Washington offer 12 cent tall brewed coffee to 12s wearing their Seahawks colors on Blue Friday

While the Seattle Seahawks have home-field advantage for Sunday's NFC Championship Game, their fans have home-state advantage in more than 400 Starbucks stores in Washington.

To celebrate the spirit of 12s (a nickname for Seahawks fans everywhere), Starbucks is offering tall brewed coffee for 12 cents to customers wearing Seahawks colors on Blue Friday, January 17, 2014 at company-operated stores and participating licensed stores.

Starbucks partners will join in the fun by wearing Seahawks colors all day.

Starbucks is proud to partner with the Seattle Seahawks, from fueling fans with coffee at CenturyLink Field, to working with Coach Pete Carroll to raise funds for A Better Seattle. Recently, Coach Carroll and several Seahawks players served as guest baristas at several Western Washington Starbucks locations, wearing the green apron while serving hundreds of customers and fans.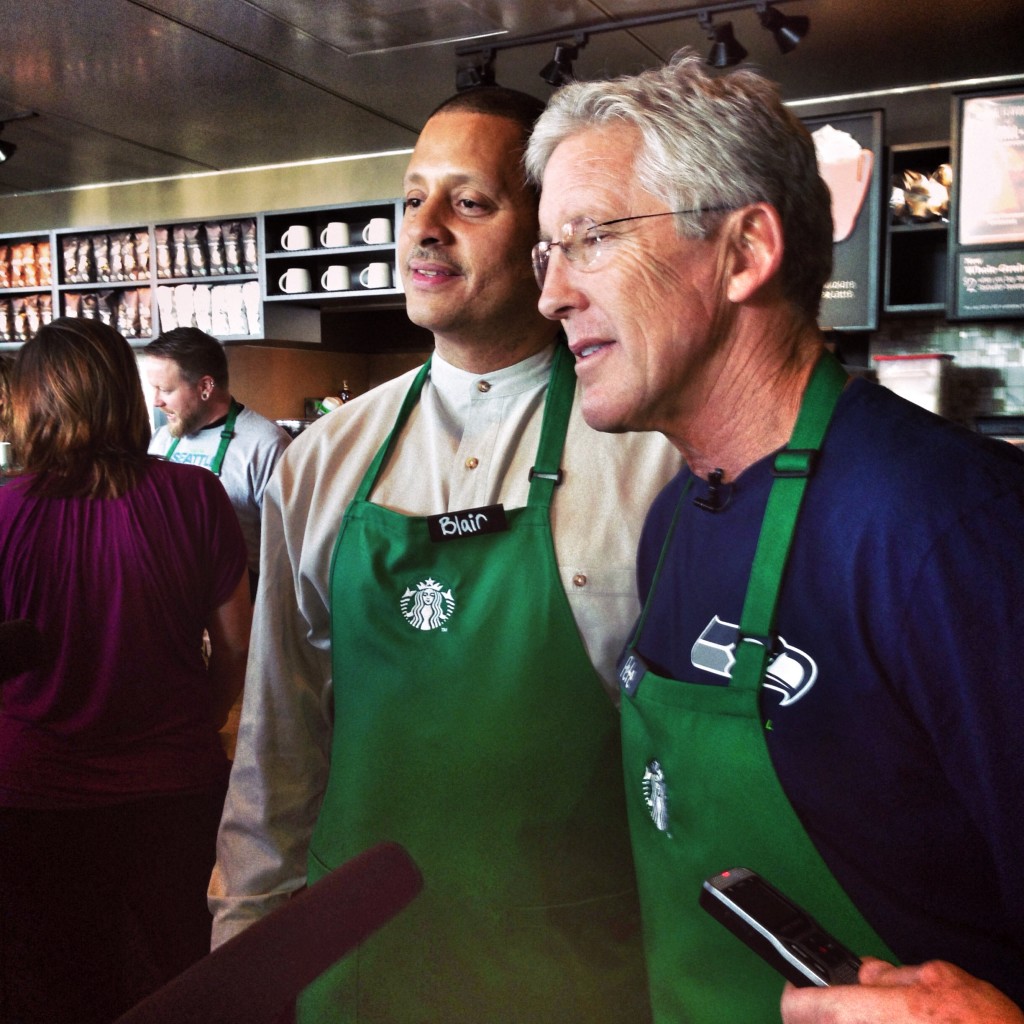 Blair Taylor, Starbucks chief community officer, with Seattle Seahawks Coach Pete Carroll supporting A Better Seattle.

Go Seahawks!

Source (Read More): http://news.starbucks.com/news/starbucks-celebrates-the-seattle-seahawks-with-12-cent-tall-brewed-coffee
Moral Of The Story
Game Recognize Game, and it has been said by some that Life = Women + Money.
Regardless of our particular leanings on this historic Superbowl Sunday 2014, it all just serves as a model for excellent business sense, and since cents come before dollars in the order of economics, we can just chalk it up as yet another unique and unusually brilliant perspective to consider.