CITY OF THE 333 SAINTS – The Reconstruction Of The New Timbuktu Is Currently Underway!
|
Timbuktu Seeks Rebirth After Islamist Militants' Destruction

By Francois Rihouay Mar 31, 2014 8:07 AM PT

Timbuktu, the centuries-old Malian center of Islamic learning on the southern edge of the Sahara desert, is rebuilding after Islamist militants razed some of its most revered shrines built in the 14th and 15th centuries.

Reconstruction is taking place brick by brick, as workers use banco, a mixture of mud and straw, to restore 14 of the 16 mausoleums destroyed or damaged by al-Qaeda in the Islamic Maghreb and Ansar Dine, or "defenders of the faith." Those two groups follow Islam's Salafi movement which regards the practices of the Sufis in Timbuktu as sacrilegious.

"We have witnessed the destruction, we are now seeing the start of the reconstruction," the imam of the Djingareyber mosque, Abderrahmane Ben Essayouti, said as he ambled in a flowing wide sleeved robe known as a boubou to attend Friday prayers this month. "To us, it is a new birth for Timbuktu."

The militants were driven out of what's known as the City of the 333 Saints in January last year after a 10-month occupation. The city, 706 kilometers (438 miles) north of the capital, Bamako, is protected by France's Serval intervention force, United Nations peace-keepers and Malian troops and police. The last attack on the Timbuktu occurred on Sept. 28 when a suicide bomber struck the Malian military barracks.

Source (Read More): http://www.bloomberg.com/news/2014-03-30/timbuktu-seeks-rebirth-after-destruction-by-islamist-militants.html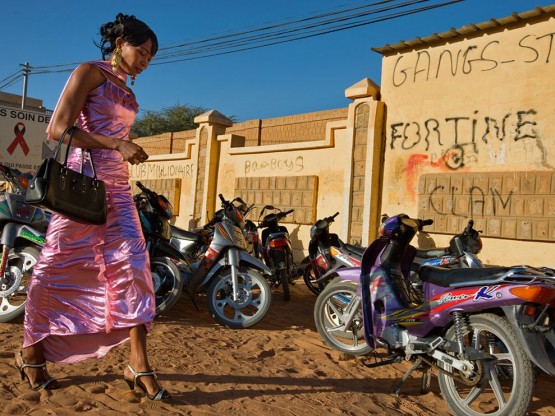 March 2, 2011

Teenager, Timbuktu

Photograph by Brent Stirton, National Geographic

This Month in Photo of the Day: National Geographic Magazine Features

High heels and high hopes have become vogue among teenage girls at Timbuktu's lone high school. A rise in female pupils, aided by scholarships, marks a national effort to cut Mali's 74 percent illiteracy rate.

See more photographs from the January 2011 feature story "The Telltale Scribes of Timbuktu."
A manuscript writer's perspective to consider.