AMBER ROSE – Come And Work With PimpHop.com!!!
|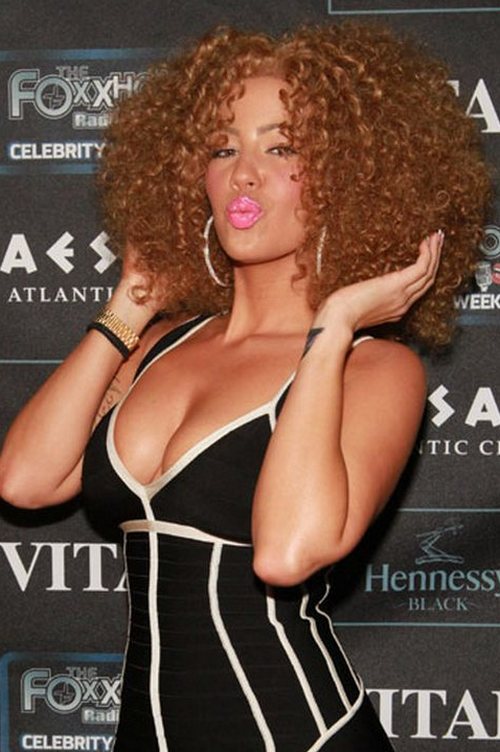 Amber Rose
Muva, Milf, Sweetheart, Badass and Baldhead Scallywag Bookings AmberRose@Ncredible.com http://www.roseandono.com
Twitter:@DaRealAmberRose I.G.:@muvarosebud
Amber Rose began stripping at the age of 15 under the pseudonym "Paris" after her father, who served in the military for 20 years, divorced her mother. Amber Rose was spotted by rapper Kanye West in the music video "What Them Girls Like." They then began a romantic relationship that lasted from 2008 to 2010.

Rose gained notability after posing for a Louis Vuitton print advertisement featuring Lamont Coleman's line of sneakers.

In September 2009, Rose announced plans to launch her own line of eye wear. She walked the runway at New York Fashion Week for "Celestino". Rose has also made cameos in music videos such as Ludacris' "What Them Girls Like", Young Jeezy's "Vacation", Nicki Minaj's "Massive Attack", Fabolous' "You Be Killin' Em" and Wiz Khalifa's "No Sleep". In 2010, she appeared in Russell Simmons' reality show about his two assistants, "Running Russell Simmons". She also starred in a PSA by NOH8 Campaign. In 2011, Amber Rose was a guest judge on Season 3 of RuPaul's Drag Race. She was also a judge on Season 2 of Master of the Mix. In November 2011 she became the spokesperson for Smirnoff and appeared in television ads and billboards for the company's new flavors Whipped Cream and Fluffed Marshmallow. Rose released her debut single "Fame", which features Wiz Khalifa, in January 10, 2012, followed by a second single, titled "Loaded", released on February 6, 2012. She then appeared in the eleventh track of her husband's album O.N.I.F.C., titled "Rise Above", along with rappers Tuki Carter and Pharrell Williams, who produced the song himself.

Rose has a clothing line with her friend Priscilla Ono called Rose & Ono.

She was managed by Leticia "Tish" Cyrus, mother of singer Miley Cyrus, who is a close friend to Rose and her husband Wiz Khalifa.

Rose will be guest-starring on a episode of Wild 'N Out on MTV2 and will have a role as "MaryWanna" in the film, School Dance which was directed by Nick Cannon.

Personal Life

Rose's father is Michael Levonchuck, and her mother, Shauna Soares, is from Cape Verde. She grew up in South Philadelphia.

Rose began dating rapper Wiz Khalifa in early 2011. The couple got engaged on March 1, 2012 and married on July 8, 2013. Their son Sebastian Taylor Thomaz was born on February 21, 2013. Rose, Khalifa, and their son divided their time between homes in Los Angeles and Canonsburg, Pennsylvania.[citation needed] Rose filed for divorce from Khalifa on September 22, 2014, citing irreconcilable differences.
Moral Of The Story (Solution)
Dear Amber,
Where the story goes from what is listed above can and will only be the results of your choices from this point forward, and our job here at your Friendly Neighborhood PimpHop.com is to to support you by helping you to create and develop your own pre-scripted success story that is to your unlimited liking and then coordinate the execution efforts, before it manifests and is visible to others as a reality, also known as a script that has you written in to win, and what we label as a different perspective to consider.
References Available Upon Request.
Rylan Branch
The Janitor
PimpHop.com Life Experience Magazine
Established in 2002
Keeping it "P" till 3003