NIGGAS AND BITCHES – A Rich Choice Of Words For Your Luxury Brand Campaign According To Balmain
|
"I know it's corny bitches you wish you could unfollow
I know it's corny niggas you wish you could unswallow
I know it's corny bitches you wish you could unfollow
I know it's corny niggas you wish you could unswallow
I know it's corny bitches you wish you could unfollow
I know it's corny niggas you wish you could unswallow"

-Wolves
Kanye West
Featuring Sia & Vic Mensa.. (And Frank Ocean?)
PH Super Proper Breakdown
Real quick.
It's like if we put up some words on PH like Bitches, Niggas, Pimps. Hoes, etc, we may experience some rejection and have the numbers drop because it's already bad enough that the online publication is called PimpHop.com and may leave one seeming kinda unprofessional, ghetto, and even offended, just like the word choice did for Taylor Swift and others with a similar mentality, but now if we put up terms like Balmain, it is more attractive because it is more symbolic of class and excellence and something that might could score some acceptance from Vogue or other high life publications that represent the image of high class and wealth, but if we put up this brand new campaign from Balmain, which features Kanye saying these types of words out of his mouth, into the ear of Kim, which then inspires her to make posting the video clip and promo link for the campaign be the first order of her online business on Friday July 29, 2016, then what is stated below must actually be completely accurate in regards to what it really takes for luxury brands to thrive in the New Economy.

Now with that out of the way, where will we go from here tho?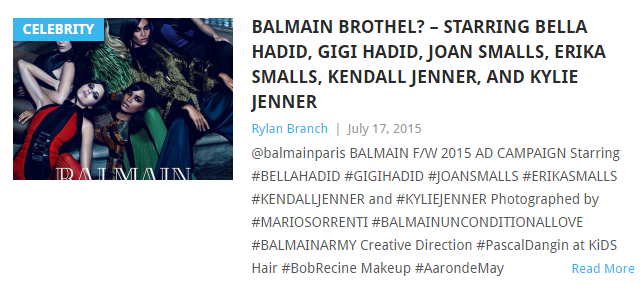 Click on the images above to review the PH Balmain Brothel articles.
Stay Tuned In And Bring Your Friends!