SHE'S GOT THE KEYS TO THE CITY OF ANGELS – A "P" True Hollywood Story Starring Zendaya
|

Moral Of The Story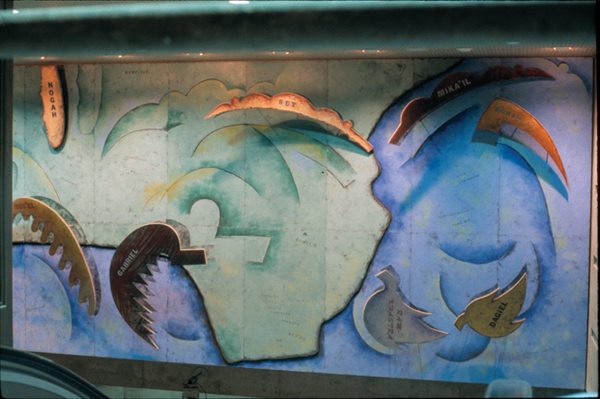 LA: City of Angels,1993
Metro Red Line @ Union Station Los Angeles
Project Description
This large painting on aluminum panels is located above the escalators at the west entrance to the Metro Red Line subway station.  It conceptually combines the history of the founding of Los Angeles by eleven Mexican, Native American and African American families, with angels from different religions. The artist constructed eleven wings, each representing one of the founding families and named for an angel, which hover over the blue and green California coastline. The metaphorical references of each wing are:
| | | | |
| --- | --- | --- | --- |
| Ram'khastra: | Angel of Rarified Air | Sui'el: | Angel of Earthquakes |
| Mika'il: | Angel of Insomnia | Gabriel: | Angel of Mercy |
| Janax: | Angel of Monday | Sut: | Angel of Lies |
| Zahun: | Angel of Scandal | Dagiel: | Angel of Fish |
| Sofiel: | Angel of Vegetables | Rohab: | Angel of the Sea |
| Nogah: | Cools the Earth in Summer | | |
Artist Statement
"Increasingly, artists are responding to the particular history of a place and its people as a source of both ideas and raw materials. It is an area that has interested me for at least fifteen years. LA: City of Angels is intended to be a witty homage to the city's history, its origins as well as its contemporary presence."
About the Artist
CYNTHIA CARLSON grew up in Chicago and obtained a Bachelor of Fine Arts from the School of the Art Institute of Chicago and went on to receive an Master of Fine Arts from Pratt. Carlson now lives and works in New York, and teaches at Queens College. She has been selected to create public projects for New York City, Philadelphia, and the Baltimore/Washington Airport. Carlson has consistently exhibited her work in solo and group exhibitions throughout the country over the last thirty years. She has been awarded a number of NEA grants and independent fellowships.
Source: https://www.metro.net/about/art/artworks/la-city-angels