#GirlPower – Say Hello To Jeanie Buss, President + Controlling Owner Of The Los Angeles Lakers!!!
|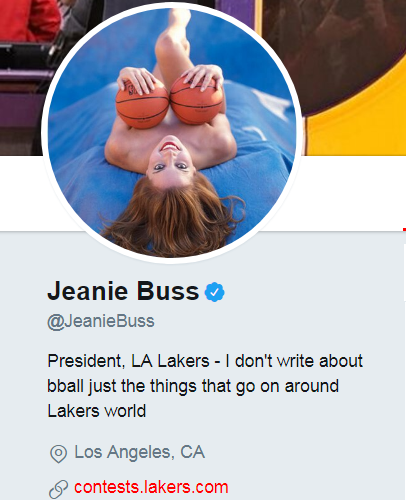 Jeanie Buss

Jeanie Marie Buss (born September 26, 1961) is controlling owner and president of the Los Angeles Lakers of the National Basketball Association (NBA). Buss is a daughter of Jerry Buss, a real estate investor who later owned the Lakers and other sports businesses. At age 19, she started in the family business as general manager of the Los Angeles Strings professional tennis team. Buss later became the owner of the Los Angeles Blades professional roller hockey team. She was also president of the Great Western Forum before becoming vice president of the Lakers. After Buss' father died in 2013, his controlling ownership of the Lakers passed to his six children via a family trust, with each sibling receiving an equal vote. Buss took over as team president and represents the Lakers on the NBA Board of Governors.

Source (Read More): https://en.wikipedia.org/wiki/Jeanie_Buss

#ThrowbackSaturday –
Jeanie Buss Playboy Magazine 1995!!!
Moral Of The Story (PH #GirlPower Solutions)
Auditions are just 1 month away! Don't miss your chance to be a part of the team! #LGAuditions pic.twitter.com/IsctvpaEpV

— Laker Girls (@LakerGirls) June 10, 2017
Q: What would Dr. Jerry Buss Do?
A: Say "It's Showtime, so be sure you don't forget about the most important element in the good time show, which is none other than the Laker Girls!"
Click on this link to review the 2013 PH Laker Girls/Dr. Jerry Buss Tribute article.
  It's all coming together as planned! How many NBA teams have women as the controlling owners?      
Fun hanging out with the Ball Family at the ball park. #Lakers #Dodgers pic.twitter.com/UH92W8Oysk — Jeanie Buss (@JeanieBuss) June 24, 2017
Another "P" True Hollywood Story.