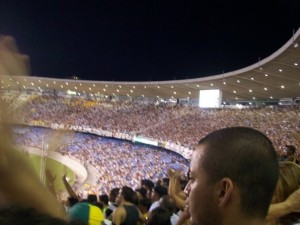 You know the drill.
If you haven t heard from me in a hot minute, it means something is about to DROP!
I have been working on the fine details before we drop this new Global Expansion Initiative.
Long Story Continued the young homie from out here in L.A. known as  Bel Air's Finest , a few years ago said he was gonna Make Way to Brazil , but what he didn't tell us nor did we expect is that he was planning on making it his NEW HOME.
(Bel Air @ The Soccer Game In Rio)
Since the Internet is the INTERNATIONAL NETWORK, we stay in touch and finally decided it was about time to let everybody else in on the fun, so he will be acting as your correspondent in Brazil, as I am told that we actually have a fairly large following down south! Go figure.
So as usual, if you want the connect..
We Got You!
Inquire within.
I will simply leave you with some tour footage imagery ,and  he can explain whats what and who's who, and let the rest happen on its own.  Diddy Says in All About The Benjamin s
Yeah livin the raw deal, three course meals
Spaghetti, fettucini, and veal
But still, everythings real in the field
And what you cant have now, leave in your will
But dont knock me for tryin to bury
Seven zeros, over in rio dijanery

P Diddy- All About The Benjamins