Angels & Demons- Pre Game Warm Up!
|
"All The Chicken Heads… BE QUIET!!"
That's My Jam! Anyhow, Im on the job, getting things ready for my Angels & Demons Book/Film Review. Yep, "START SPREADIN THE NEWS"
like Sinatra Sings.
Ever heard that "urban legend" of how The Vatican Library Vault
has the largest collection of Erotica on Earth?

I
It  was closed to the public  in 2007 for upgrades.
The Vatican Library is closed to the public since July 14, 2007 for important refurbishment works which are expected to last for three years.

Sounds like the "DA PIMPS KEY CODE"!
Like I said, you aint ready!
Stay Tuned.
A different perspective to consider.
The Light @ The Beginning Of The Tunnel.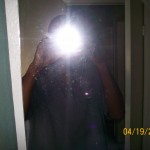 Written By
R. Branch
Code Name
Scotty Pimpin