Rihanna 101- Poor Momma Rich Momma
|
You know the story.
A few months back, Chris Brown and Rihanna got into a pre Grammy Awards Show physical altercation which led to assault charges being filed against Chris Brown in Los Angeles as well as a restraining order being issued to Brown, and a subsequent split of the duo. Rihanna suffered subsequent abuses from the altercation and public scrutiny regarding the way that she handled the events proceeding the altercation, as the experts and authorities on the subject tend to know more about what is best for the victim than the victim themselves. As of yesterday, June 22, 2009, when the world was finally about to hear Rihannas testimony, Chris Brown under the advice of his legal defense team, opted to accept a plea deal for a felony assault charge, and is scheduled to be sentenced to 180 days of community service and avoid any jail time, considered by most as a travesty of justice.
Rihanna as a victim still did not have the chance to tell her side of the story which millions of people were waiting to hear and sympathise with.
This part of the story is what we can call
Within weeks of the incident, Rihanna was back on the high life
Los Angeles scene with little or nothing to say about the whole incident, which many considered a crisis situation as if she was in denial about the whole ordeal as most victims are said to react as such. She and the rest of the world were waiting for the case to unfold in the courtroom where Rihanna was scheduled to testify against her estranged lover Chris Brown. Unfortunately she was not able to tell her side of the story regarding the horror that she experienced, and the perpetrator got off with a light sentence, free of any jail time. Somewhere in the process of time, Rihanna and her record label staff understood that Rihanna does in fact have a need to vent and express her feelings, and then they recalled that she was currently a multi platinum superstar who had a chart topping album as her last release, so she has quietly been in the studio and creative lab getting her stuff together for the GUARANTEED mutli platinum selling album that is schedueled for release soon hoping that you will be sure to purchase it and have a listen as  inquiring minds tend to want to know. This is the part of the story known as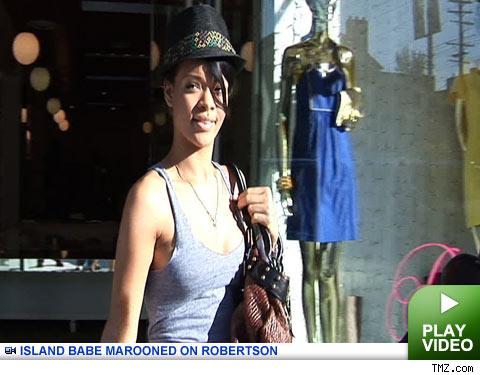 Rich Rihanna
The Moral Of The Story.
Good Girl Gone Bad Part 2 = Poor Girl Gone Rich !
The pretty girl simply made a request that the music not be stopped, and it has been granted.
So, you know the rules…..
Once Again Its ON WITH THE SHOW!
Stay Tuned!
A different perspective to consider.
See You At The Top
( And Bring A Friend!!)
Written By
R. Branch
Code Name
Scotty Pimpin