2010 BCS Championship Game Brings $400 Million In Revenue To L.A.
|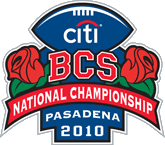 Date: Thursday, January 7, 2010
Time: 5:00 p.m. (PST)
Match-Up: No. 2 BCS-ranked Texas Longhorns vs. No. 1 BCS-ranked Alabama Crimson Tide
Location: Rose Bowl Stadium in Pasadena, Calif.
Television: ABC
The results of this game are already in the history books and
online archives.
BCS Citi Rose Bowl Game Results.
This entry is simply to also note that Fox News reports that the Citi BCS Championship Game and subsequent activities, actually brought
$400 million dollars in revenues to the region in a total of 10 days.
It can be considered as exciting news, as it shows once again that regardless of economic conditions, even in California amidst state budget woes and high unemployment numbers, a
really good time is always a good sell and creates jobs in the process.
Just a thought.