Platinum Gentlmen's Club L.A.- V.I.P. Opening Galla
|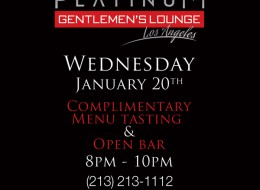 This just came in , and it is a great way for many of us to spend a rainy evening.
Platinum Gentleman's Club, the new upscale lounge experience of
Los Angeles, Â is hosting an Invitation Only, Grand Opening event on Wednesday, January 20, 2010.
The venue  is within two miles of  Los Angeles Union  Station, which makes it an ideal destination for travelers in need of an ideal place to arrive or layover.
For those who appreciate beautiful women and first class
hospitality in a cool, sensual environment …
now there's something besides LA's typical "juice bars."

For those who appreciate great light food, excellent
cappuccino/espresso and gourmet desserts until 4 am* …
the best deli cafe downtown isn't a deli cafe.
Again, this is an invitation only event, so please refer to the contact information located below for more information.
Open Bar – Complimentary Food
Please RSVP as space is limited
Call 702.499.1915 To RSVP
http://platinumloungela.com