PimpJuice – The Pro's Preferred Energy Drink Of Choice
|
T.G.I.M. (Thank God Its Monday)
Back on the scene, crispy and clean, serving needs and collecting proceeds. Spring is in the air, and there are only 39 weeks left until 2011, which is plenty of time to adjust your attitude and focus.
Have you made progress and added some walk to accessorize your new years resolution talk? Time waits for no one, so today's first official spring break post is for those who may be experiencing some challenges in the areas of evolution and expansion.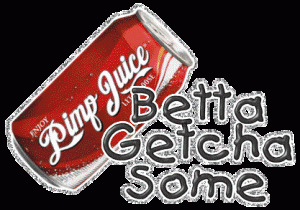 PimpJuice – The Pro's Preferred Energy Drink Of Choice!
Now Accepting Orders Here At PimpHop.com. Act Now While Supplies Last!
Ponder yonder, because if you can see it, then you can be it, and if you can know it, then you can show it.
A different perspective to consider.