Dinner With Barack Obama Invite
|
Barack Obama info@barackobama.com  8:08 AM (2 hours ago)  to me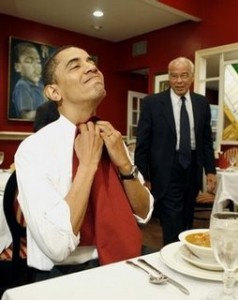 Friend —
If you win a seat at the next dinner with three other supporters and me, you'll get to bring a guest.
I thought I'd bring one, too — so I invited Michelle.
She's in.
Donate $3 or whatever you can to be automatically entered to sit down for a meal with Michelle and me.
Michelle and I don't get to spend as much time as we'd like with the people who are building the 2012 campaign.
But we are incredibly grateful for all you're doing, whether it's volunteering and having one-on-one conversations in your communities or chipping in what you can to help build the organization.
We're looking forward to the chance to thank you in person, so I hope you'll take us up on it.
Make a donation today to be automatically entered for the chance to join us at the table:
https://donate.barackobama.com/Me-and-Michelle
Thanks,
Barack