(Repost) 7-11 Free Slurpee Day @7Eleven!!!
|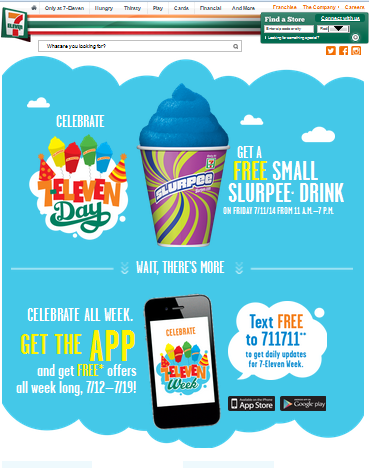 (Editors Note – Friday July 11, 2014)
Originally published on published on: Jul 11, 2009 @ 9:59

If you believe in luck, then this is a great day to acquire some of the good kind for yourself.

Enjoy!

(End Note)
What a way to start the day!
As usual, I passed by the local 7-11 on my start of the day journey, to pick up some creamer for my coffee, and the nice lady who was walking out of the store recommended that I be sure to get my Free Slurpee.
Think I didnt? You can too, yet I believe its for the first 1000 people, and 7-11 is a mysterious place that will never have more than a certain ammount of people inside at one time, so act now, while supplies last.
On a more personal note, I have to research the reasons why 7-11 tends to always be located somewhere near me, and I have found myself going and coming at all timesduring the day and night over the years. I think its simply due to the fact that its one of the only places in America that can relate to my unique time schedule as if the person who came up with the idea thought like me and had the same idea in mind.

Oh Thank Heaven for 7-11!
That is one to grown on, and there is a special sweepstakes located at slurpee.com where you can enter to win free concert tickets.
Enjoy
A different perspective to consider.
See You At The Top
( And Bring A Friend!!)