MISS UNIVERSE CONTEST – Who Determines The Value Of A Woman In Modern Society?
|
Miss Universe

Miss Universe is an annual international beauty pageant that is run by the Miss Universe Organization. Along with the Miss World and Miss Earth contests, Miss Universe is one of the three largest beauty pageants in the world in terms of the number of national-level competitions, and one of the most anticipated beauty pageants worldwide. The pageant was founded in 1952 by the California clothing company Pacific Mills. The pageant became part of Kayser-Roth, and then Gulf+Western Industries, before being acquired by Donald Trump in 1996.

The pageant is broadcast in the US on NBC, simulcast in Spanish on Univision, and webcast on Xbox Live along with many international broadcasting channels. In 1998, Miss Universe changed its name from Miss Universe, Inc., to the Miss Universe Organization, and the headquarters moved from Los Angeles, California, to New York City that year. Donald Trump brought in a new team of professionals to the contest headed by its new CEO, Molly Miles, and president Maureen Reidy.

In 1998, the logo of Miss Universe – "the woman with stars" – was created, representing the beauty and responsibility of women around the Universe.

The current Miss Universe is Paulina Vega of Colombia who was crowned on January 25, 2015, in Miami, Florida, United States. Traditionally Miss Universe lives in New York City during her reign.

Miss Universe is part of the Big Four international beauty pageants.

Source (Read More): http://en.wikipedia.org/wiki/Miss_Universe
http://www.missuniverse.com

Paulina Vega

Paulina Vega Dieppa (born January 15, 1993 in Barranquilla, Colombia) is a Colombian beauty pageant titleholder who was crowned Miss Colombia 2013 and Miss Universe 2014

Source (Read More): http://en.wikipedia.org/wiki/Paulina_Vega
http://www.missuniverse.com/members/profile/661314
Moral Of The Story (Solution/Speaking From The Soul)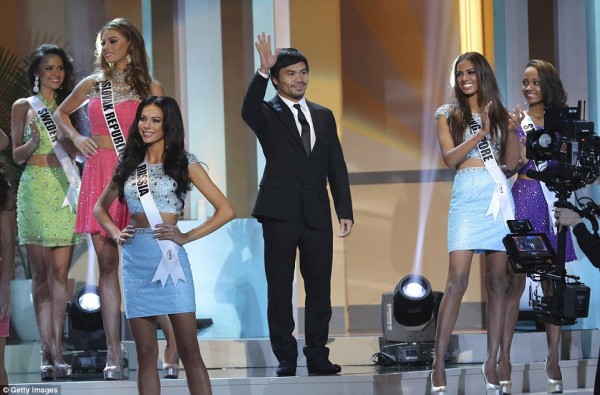 T.G.I.M. (Thank God It's Monday)
Fresh off of a U.S. State Of The Union Address week break and subsequent follow up remarks from President Barack Obama in the very last post here at PimpHop.com, our orders from up top are to continue on with our task of writing the new future and getting clear on how we like for the picture of the the future to look, and judging by the imagery seen here in this post, simply put, what you see is what you get.
For whatever reason, yours truly as the author of this post believes it to be a beautiful and friendly universe due to the fact that a fun, enjoyable, and well paying job exists to pick out which women do it most best in the universe on a day to day basis with the need for this business confirmed by this and other contests, and as a natural born appraiser of women myself, I believe that an even more effective job is and will continue to be done by us as opposed to the likes of Donald Trump and others of the like, who actually pay to do the job of appraising women as opposed to getting paid for their efforts, as the woman's good stuff is to him a reward and valid form of compensation in and of itself which he pays for or as an increase in his chances to attain, as opposed to

our nod approval from a position of high self worth and value acting as a reward for her and more valid mechanism of helping her to ascertain her own actual true self worth and value.
Which ever way, congratulations to Paulina Vega and all of the other contestants in this and other contests as the show must go on and a job exists that we must do.
A "straight from the soul" perspective to consider.