(#KUWTK Brand Ambassador Repost) Pimpin' Is Cool Says Kim Kardashian – Pimpin' Is Enslaving Says Demi Moore
|
It's #KUWTK season 13 premiere day!!! RT if you're watching with us tonight!! 9/8c on E! pic.twitter.com/bHsKrMjKIi

— Kris Jenner (@KrisJenner) March 12, 2017
(Editor's Note – Sunday March 12, 2017)
Article originally published on Jul 2, 2011 by Rylan Branch

Real quick.

For any who may be interested in why the support for The KUWTK show has been, and will continue to be solid here at PimpHop.com, the old news listed below from back in 2010 and updated in 2014 will help to offer some clarity, along with the creation of new and improved Brand Ambassador opportunities for qualified and fit individuals here @ PH who are viewing the post seven years, and two U.S. presidential terms later!

(End Note)

Case History from 2010
Via: BittenAndBound.com

Demi Moore and Kim Kardashian in Twitter Pimpin Fight

Demi Moore called out Kim Kardashian on Twitter for using the word ˜pimpin'.

On Sunday night, Kim tweeted a pic of her with three celeb friends at a Miami party with the message,Big pimpin w @SerenajWilliams @LaLaVazquez @Kelly_Rowland Love u girls!

Demi responded, Are you using the word pimpin as in pimping, to which Kardashian replied: Doesnt everyone? LOL Nothing wrong with dancing to Big Pimpin by Jay Z in the club! Having a girls night out, gotta love that song!

Demi, who campaigns against child slavery with husband Ashton Kutcher, wrote, A pimp is nothing more than a slave owner!.. if we want to end slavery we need to stop glorifying the pimp culture.. I was just making a point about how we have used a word and desensitized the real meaning.

An hour later Demi tweeted, Clearly I stirred up a s**t storm.

Kim conceded, Good point!I agree! It was just a song not literal.

Check out the tweets below:

Demis tweets: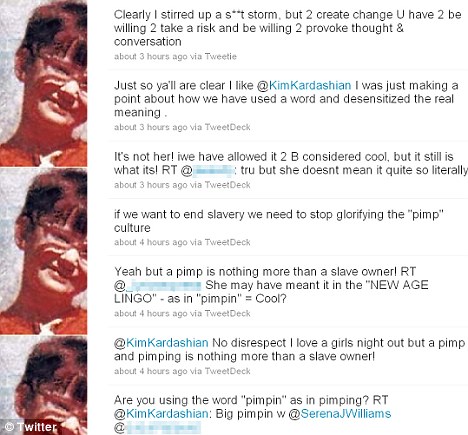 Current Status Update 2013-14
Moral Of The Story
I Rylan Branch as the author of this post sincerely and authentically agree wholeheartedly with Demi Moore's statement listed above that claims that the creation of change depends on the willingness to take risks in order to provoke thought and conversation, and history reflects that much has changed since the year of 2010 when those statements were made, for better or worse depending on the perspective that one considers the change from, so may the Game continue to bless us with the continued and increasing power and willingness to act on the creation of such said change!