IS IT GOING TO BE THE GIVENCHY OR THE PROMISCUOUS SHOE??
|
 Seen here on Mary-Kate Olsen is The Givenchy shoe which will run you about $1,775. CRAZY!! Which can be bought at Shopbop.com and Might I add the heel doesn't look that bad!
Now the comparsion to The Promiscuous shoe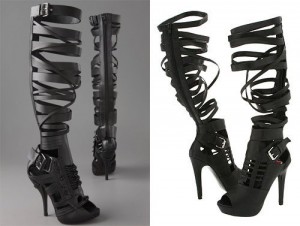 Of course the Promiscuous shoe is cheaper at a price of $139 and comes in different colors.( black leather, red patent, brown patent, and black patent) you can't go wrong!
I think they look a lot alike minus a few details but if your the type to splurge your going with The Givenchy shoe…………and if your a penny saver your going to go to Zappos.com an spend $139 for the closest thing!
Which one??????????????????
 
written by
Krissy from Harlem