TipJoy On Twitter- Money Talks
|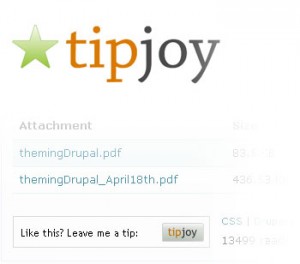 A little bird told me, that it would definitely be in my best interest to go ahead and publicize this new addition to the game.
About us

Tipjoy is a simple, social payments service which makes it easy for people to earn money from and give money to great people, causes and content. Our office is in Arlington, Massachusetts.
http://tipjoy.com/aboutus
In non techie terms, its a new and improvedway to get loot for posting content on the Internet and for individuals to break bread.
Think of it as a 2009 PayPal with a Space Age Pimpin Twist.
No time to waste, you'll have to do your own research.
I have to give credit to Twitter, TipJoy, and all third party developers for bringing back that ole dot com entrepreneurial spirit.
Its in perfect alignment with the previous entry known as
The Money Tree- First Fruits
Let Me See How This Works.