Dr. Eric Scmidt Resigns From Apple Inc. Board Of Directors
|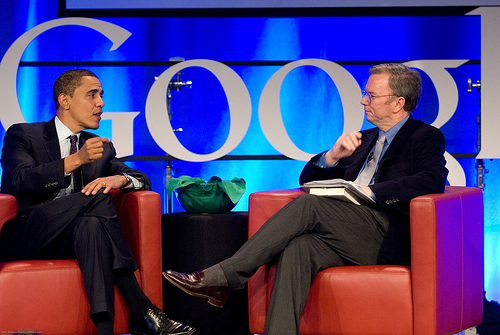 (Dr. Eric Scmidt and Barack Obama)
In the news.
Just recently, Dr. Eric Scmidt has resigned from his position as board member of the Apple Corporation. The voluntary resignation was sited as avoidance of a potential conflict of interst, as Dr. Scmidt is still currently and was simultaneously the CEO of and Board Chairman for Google Inc, as well as one of the organizations founders, and Google is now moving into ventures that place them in competition with the Apple Corporation.
Dr. Eric Schmidt Resigns from Apple's Board of Directors

CUPERTINO, California—August 3, 2009—Apple® today announced that Dr. Eric Schmidt, chief executive officer of Google, is resigning from Apple's Board of Directors, a position he has held since August 2006.

"Eric has been an excellent Board member for Apple, investing his valuable time, talent, passion and wisdom to help make Apple successful," said Steve Jobs, Apple's CEO. "Unfortunately, as Google enters more of Apple's core businesses, with Android and now Chrome OS, Eric's effectiveness as an Apple Board member will be significantly diminished, since he will have to recuse himself from even larger portions of our meetings due to potential conflicts of interest. Therefore, we have mutually decided that now is the right time for Eric to resign his position on Apple's Board."

Apple ignited the personal computer revolution in the 1970s with the Apple II and reinvented the personal computer in the 1980s with the Macintosh. Today, Apple continues to lead the industry in innovation with its award-winning computers, OS X operating system and iLife and professional applications. Apple is also spearheading the digital media revolution with its iPod portable music and video players and iTunes online store, and has entered the mobile phone market with its revolutionary iPhone.
A different perspective to consider.

Stimulus Is LAW,
Put It On The Card!
Written By
R. Branch
Code Name
Scotty Pimpin