Wyclef Jean On Earthquake in Haiti
|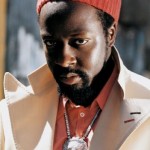 After the massive Earthquake in Haiti celebrities are reaching out to help in the clean up efforts. As the people of Haiti along with friends and family abroad scramble for information about loved ones, famed musician Wyclef Jean is using his influence to assist in the efforts.
Wylcef has long been associated with organizations that offer aid to Haiti, in 2005 he established Yéle Haiti Foundation. In his latest efforts he is urging people to donate either by texting "Yele" to 501501, which will automatically donate $5 to the Yele Haiti Earthquake Fund (it will be charged to your cell phone bill), or visiting Yele.org to make a donation.
Wyclef is not the only celebrity lending a hand during this devastating time, Brad and Angelina are also involved in the efforts.
"We are devastated by the news from Haiti. We will work closely with our good friend Wyclef Jean to support the humanitarian efforts on the island and help those who have been injured and left without homes and shelter." – Brad & Angelina
For more information from Wyclef Jean you can follow him on twitter http://twitter.com/Wyclef or visit his blog at http://wyclefjean.wordpress.com/