(REPOST) KIM KARDASHIAN HOLLYWOOD – The Game Starts With The Brutha Man's Conversation And Instructions!!!
|
(Editor's Note – Tuesday October 10, 2017) Article originally published on  October 22, 2014 by Rylan Branch.
#Script = The solutions/cure for the social ill's that are currently plaguing Hollywood, that are then viraly transmitted globally via the Internet, are coming to you by way of these keystrokes, Starring Kim Kardashian Superstar West, compliments of Your Friendly Neighborhood PimpHop.com.
It is written, and so it is.
(End Note)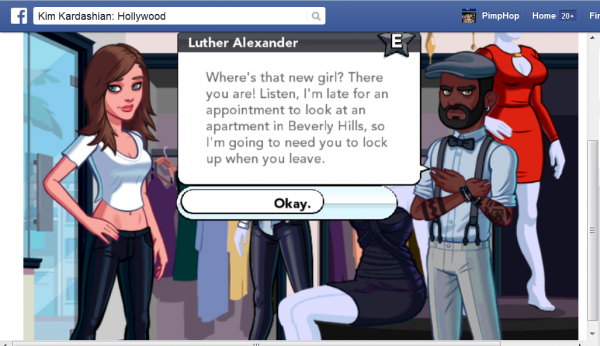 Luther Alexander

Luther Alexander is the first character you meet in the game as part of the Introduction, where he introduces you to actions and how they work throughout the game.

Background Trivia

Luther works at So Chic in Downtown LA. Later in the game, you can buy this store as your own where you can work to earn CashCash by working a shift. You can start a shift by speaking to Luther. Source: http://kimkardashianhollywood.wikia.com/wiki/Luther_Alexander
Moral Of The Story (Solution/Mental Note)
Well, you see, what had happened was……..
While working on some behind the scenes duties, yours truly clicked on over to the Kim Kardashian Instagram account since today is her birthday, and I saw something with the Facebook symbol embedded into the Kim Kardashian Hollywood Game image, which as you already know, is definitely a game changer.
After viewing it, and seeing exactly what it says in the Instagram embed above this solution/story moral, the decision was made to go ahead and open it up on Facebook, to see what was really new and good in the hood, and the game automatically loaded itself unto the PH Staff account on Facebook, and I decided to go ahead and see for myself what all of the fun that I have been missing out on really looks, sounds, and feels like, and after one click, the intro scene as pictured in the featured image came on the screen, and from that point, my fingers took on a life of their own, knowing that there is definitely a sound and valid reason why the game starts off in this fashion both online and in the world at large, so much so that I may very well be one of the most enthused individuals about this particular day in which a Hollywood Star named Kimberly Noel Kardashian was born, so with that said, our work is cut out for us here at Your Friendly Neighborhood PimpHop.com, literally, and it's once again back on….with the show!!!