BUILD YOUR OWN RANGE ROVER! – New Feature On The LandRover.com Website
|
ALL-NEW ROVER SPORT: BUILD AND PRICE YOUR VEHICLE

Confirm your model below and use our engine filter to find a Range Rover Sport that's right for your needs.

Source: http://ow.ly/m3cTB
Welcome Home.
For those who have an interest in the finer things that life has to offer, the Land Rover website now has an option that allows its visitors to custom build their very own Range Rover Sport.
The interactive program begins with listing the available Range Rover Sport models and their separate price ranges, and then brings you to a screen which allows you to select your own interior and exterior customization options along with the prices for each piece by piece addition.
Exterior options include exterior colors (paint color option), wheel type selection, roof options, and exterior styling options (side sills and bumpers).
Interior options include seat type, headlining, seat and dash color options, and finishing options (grain and leather types).
There are also plenty of additional accessories add on options that are synonymous with the Range Rover enthusiast's purchasing experience.
The program then concludes by calculating your options package costs and providing a listing for local retailers that can arrange purchasing and delivery/pickup options for your new custom built vehicle, as well as a sharing option which provides the opportunity for your friends and associates on the web to observe and admire your new creation.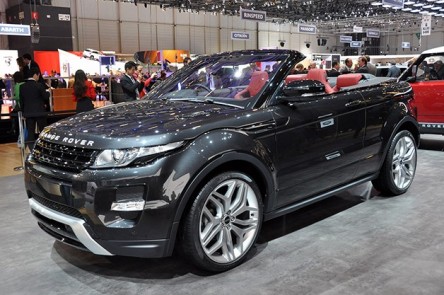 Now in the name of wishful thinking, a Range Rover enthusiast such as yours truly would seek to expand the program to include all Land Rover vehicles so that we could also select specific custom built body types as a work around to getting the long awaited and anticipated Range Rover Evoque convertible as pictured above out onto the public streets as they now only exist as a showroom concept model with a few mysterious street sightings in the U.K.
We could also consider a priority customer online payment option in which we could conduct the transaction and have the vehicle ready for delivery or pickup with less time, yet for now, we should extend a round of applause to The Land Rover organization for innovating the building experience and consider it as a sign of a better and brighter future.
My finished product is as pictured and stated below, and I invite you as a valued viewer to consider creating your very own customized version by visiting the website listed under the featured header image of this entry.
OUR ALL NEW Range Rover Sport

Final price $97,305*

$93,295 base price | $4,010* your configured options

AUTOBIOGRAPHY LR-V8

Manufacturer's Suggested Retail Price includes $895 destination and delivery. Excludes taxes, title, license, options and retailer-installed accessories. Actual price set by retailer. Vehicle may vary from image shown.

CONGRATULATIONS
You have now configured your very own all-new Range Rover Sport. For the next step, please follow the links on the right.
A 2013 Summer League perspective to consider.